The Mark
Grip: unparalleled.
Upwind: ridiculous.
Big air: personal record-breaker.
Control: like no other.
Fun: guaranteed. (this actually comes standard with all TEN products)
While boosting bigger and further every year we were asking for more than current twintip models could deliver. We were looking for a board to handle high speed, high pressure and high impact on a different level.
"Okay, then we will completely redesign the 'twintip'."
The Mark is designed and fine-tuned around a 5th fin on the heel side rail. This 5th fin combined with a channel provides unparalleled grip and upwind capabilities with a surprisingly lively feel!
We believe you can't buy a more suitable board to boost big.
Especially those riding high performance (race/freeride-) kites to shatter the WOO-charts (or the ambitious ones) will feel that the Mark is the missing link in firing all that power at once.
It's not the potential the Mark unleashes what makes our adrenaline pumping… It's the control to finally use all of it.


The Mark is truly an exciting new breed of twintip.

Typical Mark lovers:
Freeriders, airstyle acrobats, old schoolers, performance addicts and human cannonballs.
Prices:
Deck-Only (fins and handle incl.): €670,-
Pads/Straps (S / M-L) : €149,-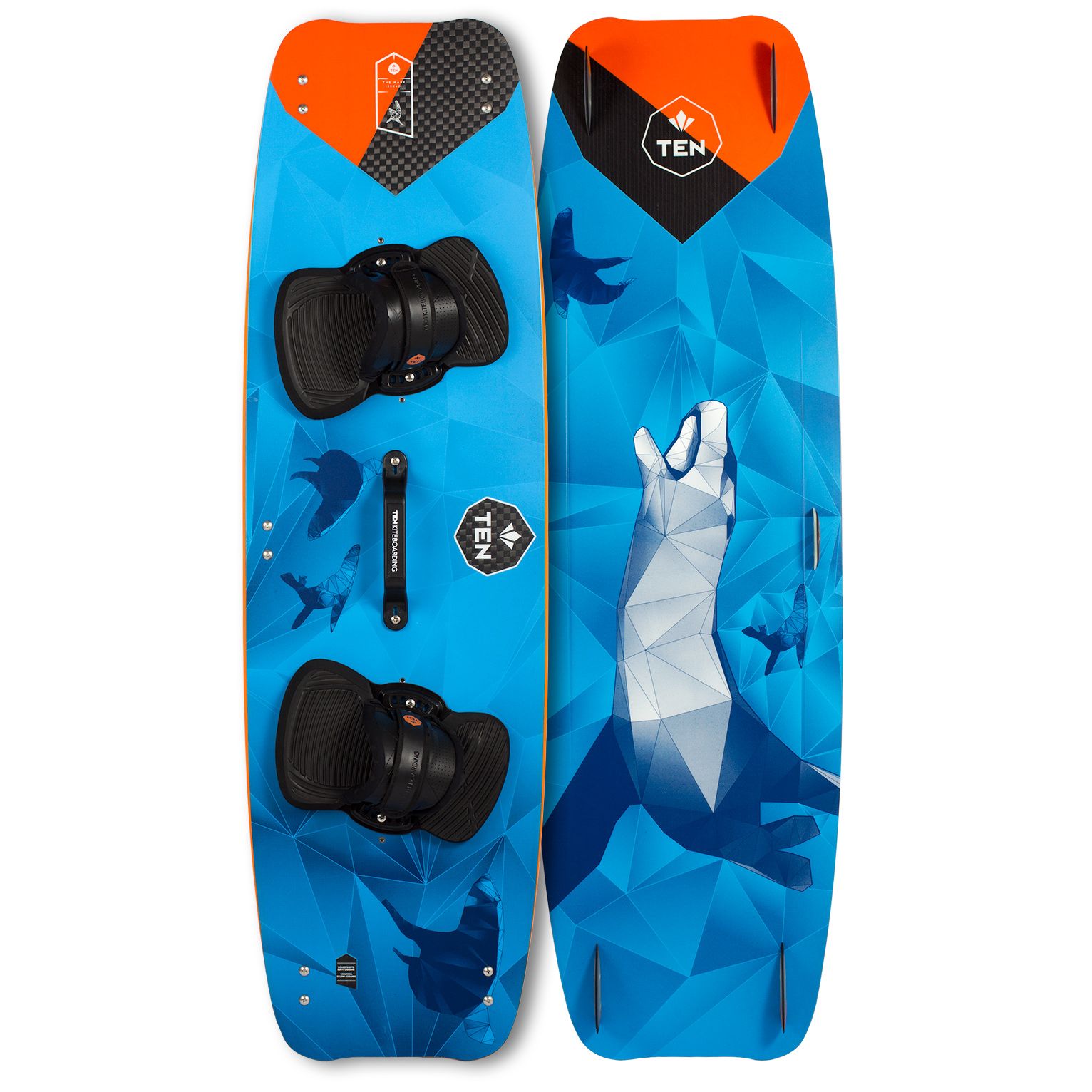 The Mark's shape is defined by a long straight outline in between the feet to feed even more grip to the rider. On the base of the board the channel supports the effect of the 5th fin even more; lots of control on high speed take-offs and (sketchy) landings.
The Mark has a light to moderate rocker for the best planing/chop killer -ratio.

LAY-UP:
The uncompromised full carbon lay-up ensures maximum performance, ultimate control in powered conditions and instant release of energy in the rebound.

Technical:
Base: -45 / + 45 carbon by Toray – Japan + 2 unidirectional stringers parallel lengthwise
Top: 0/90 spread tow fabric carbon by Toray.
2 big carbon reinforcement patches at the high impact zones around the inserts
Core:
80% paulownia wood, 20% high density foam on the toe-side create the performance core of the Mark.

This 80/20 ratio ensures the optimal combination of weight, control and performance/ rebound.
Weight of 135*40 deck only: 2,205kg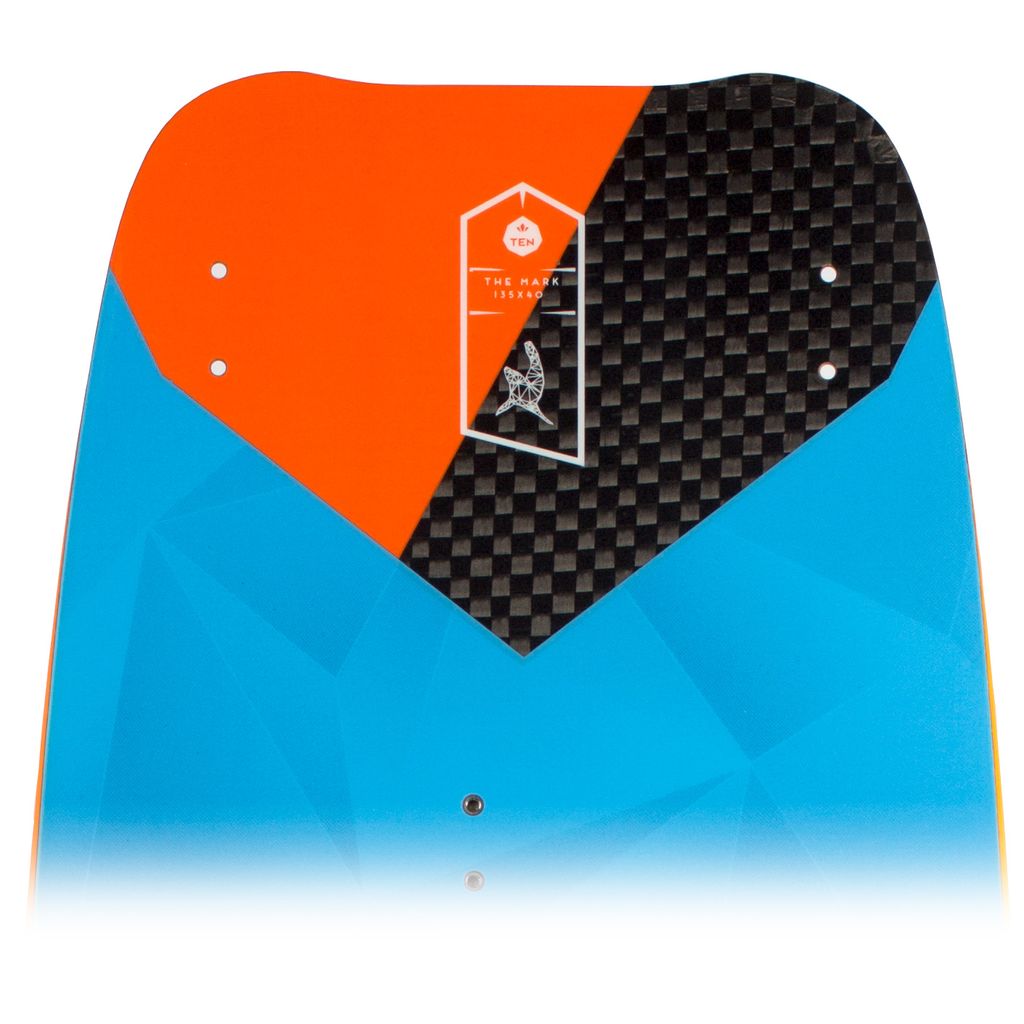 5TH FIN
The 5th fin is literally the center of the Mark's design.
Grip, speed, and the ability to load the rail of the board to new extremes in all conditions is in its DNA.
But the advantage works both ways; whilst riding the low-end the Mark's 5th fin keeps you from drifting off the delicate upwind-tack and helps you to generate apparent wind.
---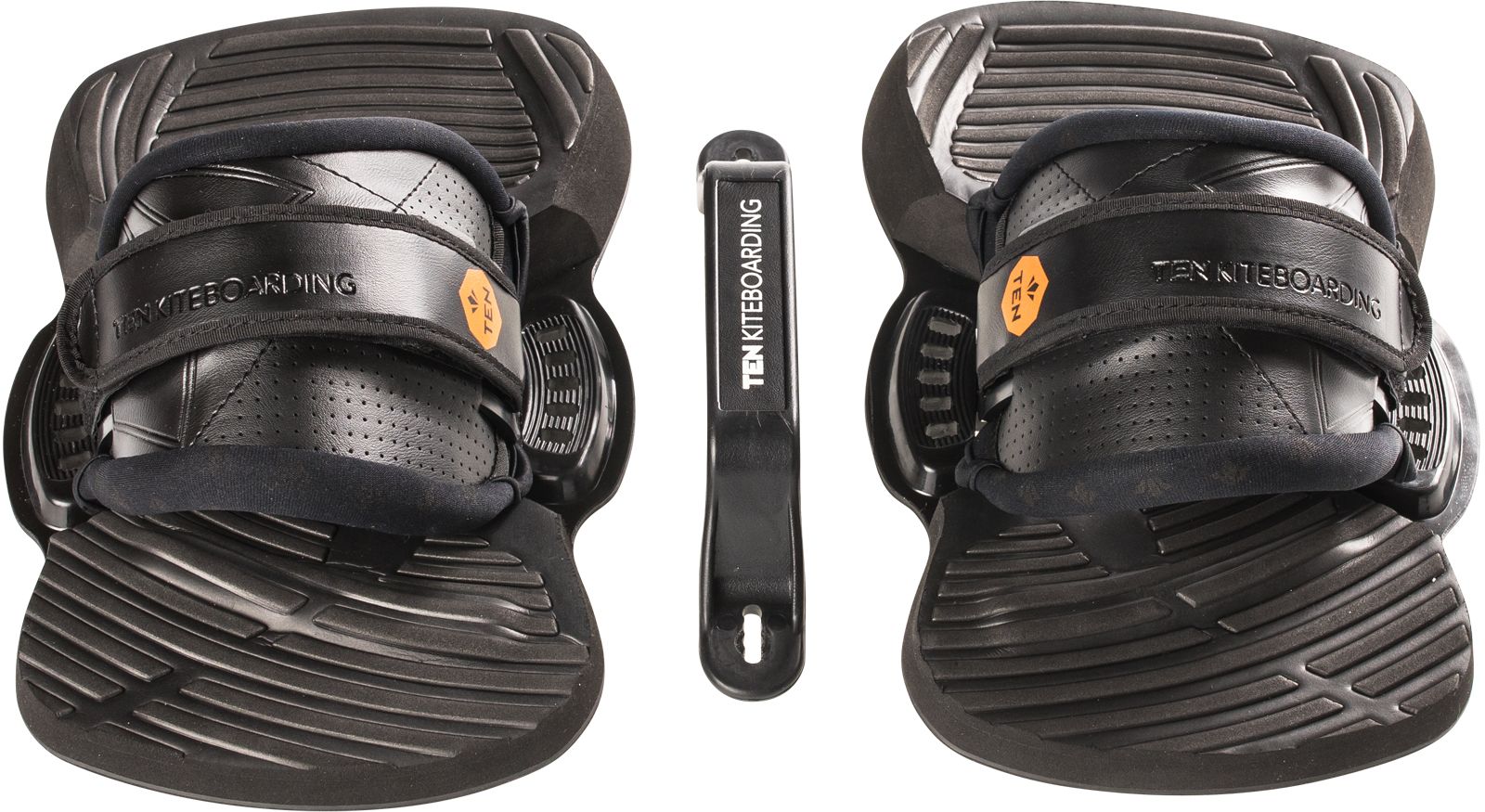 ACCESSORIES
We did not underestimate the importance of well fitting high quality straps, pads, handle and fins. It's your only contact with the board, so they better be good! Built with a clever all-in-one construction so they are extremely easy to mount or adjust and don't weigh the board down!

Placing the inner inserts for the most narrow stance closer to the heel side enhances comfort and control for our featherweight warriors.

Don't worry if our straps don't work for you, they are sold separately so you can cheat on us with other brands.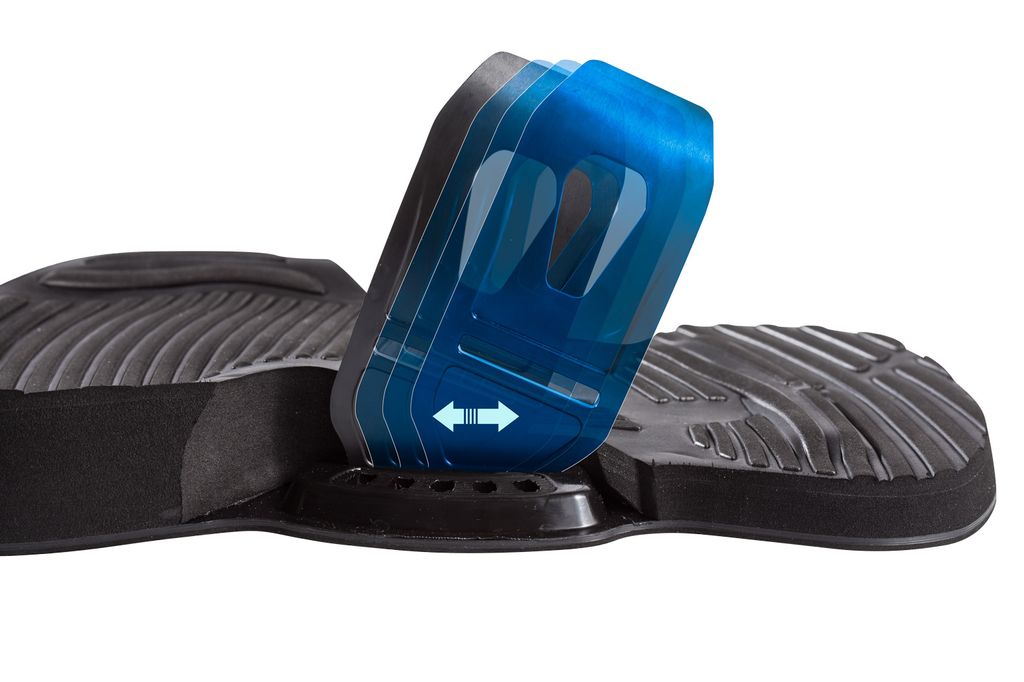 ADJUSTABLE STRAPS
Find the perfect setup for your stance and shoe size with 5 radial and 4 axial options.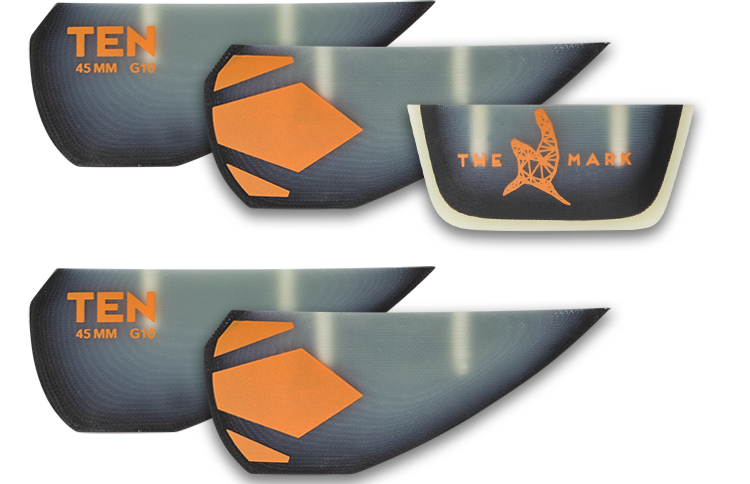 G10 FINS
Full G10 epoxy/glassfiber pressed tech fins; proven to be the most durable choice for twintip fins.

The Mark comes equipped with 4 x 45mm fins + a 35mm center fin for optimum boost/upwind ratio.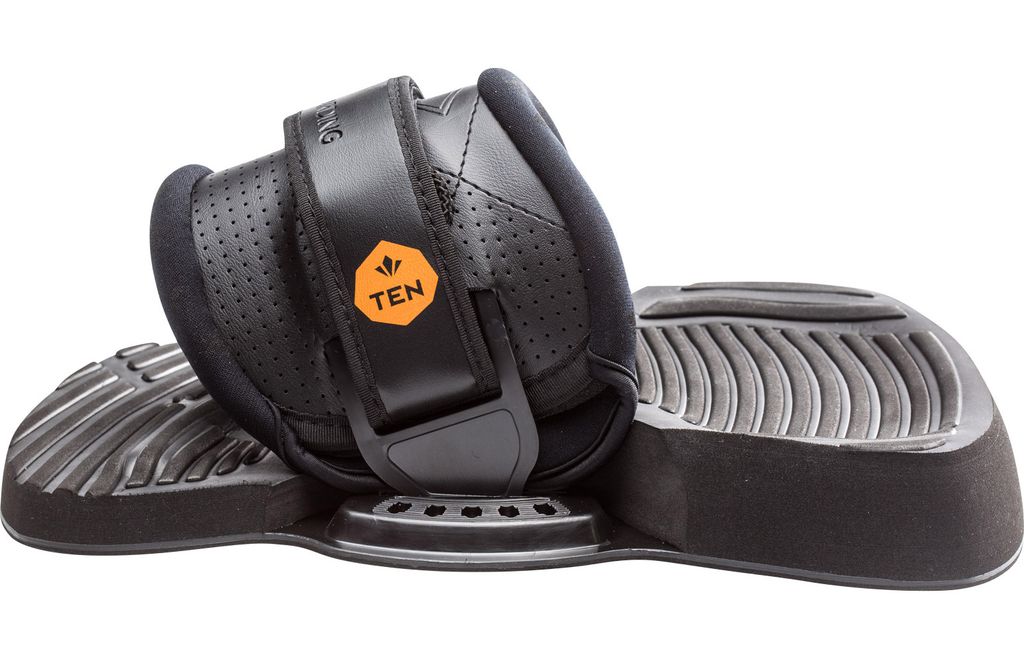 COMFORT PADS
The fully padded strap works for a wide variety of shoe sizes and insteps and even the biggest sizes have full protection on the sides with our neoprene side-protectors.

Our pads are comfy, very comfy. With a small toe-bar to ensure you won't loose your board boosting high.

DESIGN PHILOSOPHY

Why sea lions?
Sea lions are incredibly smart, curious and love to goof around. Witnessing their speed and agility while they chase and fool each other is as fascinating as it is entertaining.
This spectacle gets even more mesmerizing when rays of sunlight play along dancing and fragmenting the ocean into a million shades of blue.
It all becomes fluid.

Kiters are no different, using natural elements to goof around, to play.
It equals ultimate freedom: the quality of being independent of necessity.
So go out and play.